R. Kelly has been around since the 90's and unless you've been living under a rock, you should know, he's been rumored to be a man who only loves young women… not a young adult, but literally an underage young woman. 
In 1994, R. Kelly, who's real name is Robert Sylvester Kelly, married then 15 year old recording artist, Aaliyah. The two met through R. Kelly's manager and her uncle when Aaliyah was 12. Kelly's team helped shape young Aaliyah and I guess that meant he had the right to seduce her into a relationship she wasn't ready for.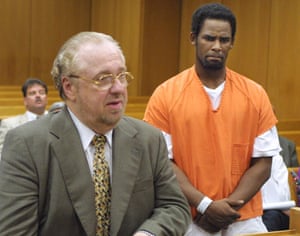 Once their relationship ended, the reports continued to roll in regarding his inappropriate relationships with underage women. 
Recently, a documentary aired on Lifetime networks, dissecting the accusations of sexual abuse and misconduct. The series is six episodes long, with each episode featuring women who were abused by him as teenagers. 
This is where our laws fall short, this man should not have a career in the public eye, making millions, and quite honestly should just be in jail!
With accusations of inappropriate conduct with underage girls, child pornography charges, rumors of leading a cult and holding women against their will, how the hell does all of this go on for so long and people still buy his music?!
Stop supporting this monster…. !!!